Note: this is one of 100-odd Hitchcock articles coming over the next few months. Any dead links are to those not yet published. Subscribe to the email list to be notified when new ones appear.
During his early years in the British film industry throughout the 1920s and 1930s, Hitch worked on 20-odd shorts and features in various capacities and earned a sole directing credit for 27 more. Only around half of the films on which he had lesser input survive, but in varying levels of condition and completeness. The earliest, dating from 1921–1925, just prior to his first full directorial effort, The Pleasure Garden, were where he served his apprenticeship and forged many invaluable personal and professional relationships, some of which would endure throughout his entire career.
These are the most significant British films Hitch worked on outside of his main oeuvre. Except where noted otherwise, most are lost and of the remainder only three and a half (in bold) are available on home video. Thankfully though, five of those that are wholly or partially extant can be viewed for free via the wonderful BFI Mediatheques (films). They also have a handful of other Hitch essentials, including the documentary Paul Merton Looks at Alfred Hitchcock (2009) in which the comedian extols the virtues of Hitch's pre-Hollywood career.
AD: assistant director, ArtD: art director, CD: co-director, CW: co-writer, D: director, P: producer, PM: production manager, SA: studio assistant, TD: title designer
Famous Players-Lasky (British Producers Limited)
Hitchcock Lost and Found: The Forgotten Films (2015) by Charles Barr and Alain Kerzoncuf is the most in-depth resource yet published on the films listed above, and is very strongly recommended.
London's Hollywood: The Gainsborough Studio in the Silent Years (2014) by Gary Chapman is the definitive history of the Islington (later Gainsborough) studio where Hitch began his career, and a simultaneous account of his meteoric ascent. Author article.
---
Woman to Woman (1923)
Based on Michael Morton's eponymous and seemingly unpublished 1921 play, the first of three filmed versions was directed by Graham Cutts, with Hitch assisting in several roles both credited and uncredited, writing and directing among them. Though I wouldn't expect it to have been the most insightfully written Hitch adaptation:
"I had to write the screenplay for the movie Woman to Woman: the story of a man who has a mistress in Paris, who bangs his head, loses his memory, and starts going with another woman, who gives him a child [sic: the child is from the mistress]. Well, I was 23 years old, I'd never been with a woman, and I didn't have the slightest idea what a woman did to have a child. I had even less idea what a man did when he was with his mistress in Paris or when he was with another woman who was giving him a child." – interview (italiano) with Oriana Fallaci in Gli antipatici/The Egotists: 16 Surprising Interviews (1963/1968) | Internet Archive
It's a tragic tale of doomed romance set against the backdrop of the First World War. Despite Hitch's lack of worldly insight, it gained enthusiastic reviews and was a commercial success, vindicating the cost of importing US star Betty Compson on a two-picture deal. However, its production overran, meaning the follow-up, The White Shadow, also with Hitch, Cutts and Compson, suffered from being too rushed and it flopped on release, wiping out all the profits earned by its predecessor. There's a detailed synopsis and analysis of Woman in Representative Photoplays Analyzed (1924) by Scott O'Dell, describing the reshot ending of the American version in which – spoiler alert – Compson's character doesn't die and is reunited with her love.
Woman's 1923 original is one of only two films of the seven Hitch apprenticed on under Cutts at Islington for which no material has been found. In its complete absence, we'll have to content ourselves with the 1929 talkie remake, also featuring Betty Compson and directed by Woman and Shadow's producer Victor Saville. A second remake followed in 1947, this time updated to WWII, but it's currently unavailable. However, various copies going right back to the original negative are held by the BFI Archive, so you never know. Until someone ponies up for a full restoration, circulating copies of the 1929 version are in worn but watchable condition via these unofficial releases:
Fun fact: Cutts had an actress daughter – like Hitch's, also named Patricia – who, after moving to America, appeared in two episodes of Alfred Hitchcock Presents/Hour and North by Northwest.
---
Lord Camber's Ladies (1932)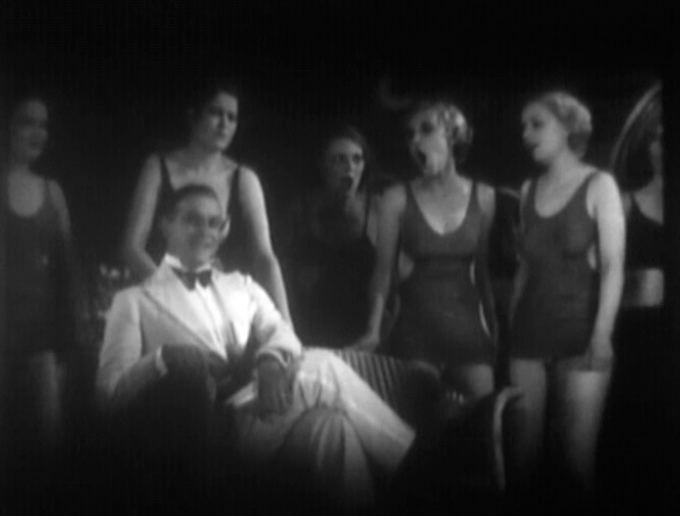 This was Hitch's final film for British International Pictures and the only one for which he was solely credited as producer. It's based on Horace Annesley Vachell's 1915 play, The Case of Lady Camber, first filmed eponymously in 1920 but now lost. A second remake, The Story of Shirley Yorke, followed in 1948 and is available on DVD. Notable members of the 1932 version's cast include Nigel Bruce in the title role but best known for playing Basil Rathbone's amanuensis in the Fox/Universal Sherlock Holmes series. Another is Clare Greet, star of Number 13, Hitch's first film, albeit uncompleted and also now lost. She also appeared in Three Live Ghosts, for which Hitch drew the the intertitles, and acted in seven other Hitchcocks, more than any other featured player. Lastly, Gerald du Maurier, father of Daphne, had top billing. His daughter of course wrote the source novels for Jamaica Inn and Rebecca.
There's more info and a very ropy bootleg copy over at the invaluable Hitchcock Zone; this is an expectedly creaky programmer that's difficult to watch in its present condition but worth it for fans of early British talkies. As with Woman to Woman's remake, the BFI have a cache of materials including the original negative, so there's similarly strong potential for a great preservation or even restoration. But it's owned by Studiocanal, so don't hold your breath, given their complete lack of action over the far better known and more essential Juno and the Paycock.
---
Related articles
For more detailed specifications of official releases mentioned, check out the ever-useful DVDCompare. This article is regularly updated, so please leave a comment if you have any questions or suggestions.