Home video and soundtrack releases
Running down and reviewing every official release of the Master's most popular British film
Too often known by many muddy fakes, when there are beautiful restored versions to be had
Amongst Hitchcock's heavily bootlegged British films, this one is easily ripped off most of all
Criterion Collection on VHS and Betamax: little-known collectibles are film's rarest releases
Note: this is one of 100-odd Hitchcock articles coming over the next few months. Any dead links are to those not yet published. Subscribe to the email list to be notified when new ones appear.
Part 1: Steps to inspiration | Part 2: Margaret's Story | Part 4: Remakes
---
Contents
---
Home video releases
What Makes This Movie Great? | Geek Talk
The 39 Steps built squarely on the domestic success of The Man Who Knew Too Much, the first of Hitch's golden run of six British thrillers. Steps was also the first Hitch film to make a significant impact stateside, thus commercially paving the way for his later career. It's the early apotheosis of all Hitch's wrong-man-on-the-run-films, especially the likes of North by Northwest (1959). This is also where more of his fave filmic preoccupations come together than ever before – or after. You can tick them all off: spies, murder, marriage and relationships, incidental but funny screwball-type characters, a MacGuffin (clue: it's in the title), an icy blonde, sexual tension, religion (the Lord literally saves!), light and dark humour, mixed-up identities – both mistaken and deliberately concealed, an evil villain, bumbling law enforcement and many more. Like most of his British outings, it's no mere dry run for Hitch's Hollywood streak: the über-tight running time, typical for this stage of his career, means not a single second is wasted and excitement is effectively sustained for the entire ride. In all, this is a truly great film with an outstanding cast, and Robert Donat in particular is pitch perfect in the lead role.
Unfortunately though, The 39 Steps is never going to wow anyone with the outstanding clarity of its visuals, as its original negative is long gone. That said, what we're left with has been restored to the greatest degree humanly (and digitally) possible. Now the film has only a few fleeting instances of overt damage remaining and a somewhat dupey, grainy appearance but I prefer to think of it as being warm and organic. Whatever your viewpoint, its driving urgency and Hitch's artistry come shining through via all the official releases.
---
Early Criterions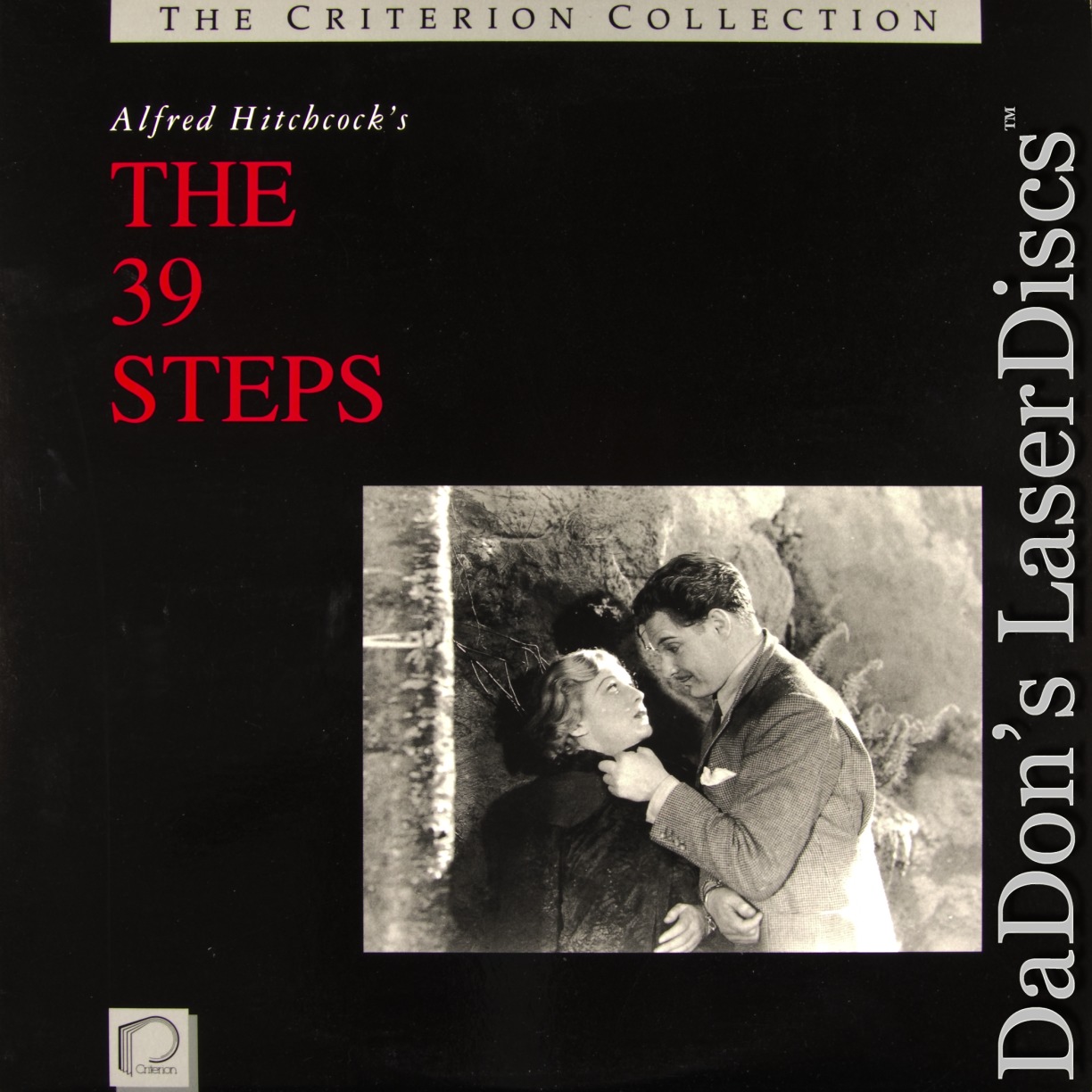 The US Criterion Collection's first issues of The 39 Steps were their simultaneously released 1985 and 1989 VHS and LaserDisc (spine #3). Though famed for their many LaserDiscs, the label only released three titles on tape; the other two were The Lady Vanishes (#4) and The Third Man (#5). Criterion's transfers were more widely re-released on VHS by Janus Films via Home Vision Entertainment a decade later but all their original tapes are now extremely rare and collectible. They cost $39.95 each when new, the equivalent of $100 in 2021 but you'd be lucky to pick them up at even the adjusted price now! Here are Criterion's pre-DVD releases of all three films, none of which have any subtitles or extras:
Criterion's VHSs have the further distinction of being two of only three British Hitchcocks to be officially released on that format in the US, the other being Jamaica Inn from Kino Lorber. But none were Hitch's first official US release overall, as they were preceded by a 1982 RCA CED (LDDb, eBay) of The 39 Steps, licensed from Rank who also released it in the UK (LDDb, eBay) and on LaserDisc. Despite having VHS-quality A/V and no extras, they're very attractively packaged and something of a landmark in Hitchcock home video. Rounding up, Criterion also released four other British Hitchcocks but on LD only: Blackmail, Secret Agent, Sabotage and Young and Innocent; that's it for official pre-DVD US releases.
Each of Criterion's wave of releases to date have featured a new booklet essay, in 1985, 1999 and 2012:
---
Preserved transfers
Among the DVDs, Criterion's first fares best with a decent selection of extras that they replicated and expanded on down the line. But one exclusive is The Art of Film: Vintage Hitchcock (29min), an episode of a six-part documentary series produced by Janus Films in 1976. Here's a three-minute clip and a fascinating excerpt of Rod Serling's voiceover sessions – hear him swear! The UK DVDs (bar the first and newspaper promo) aren't too far behind, also getting a few decent extras, then after that it's a wash, with all other countries being barebones bar the oft-occurring "Hitchcock: The Early Years" featurette (1999, 24min), the odd photo gallery or some text bios.
A couple of caveats: beware the French TF1 Vidéo DVD as, despite having two unique, non-subtitled French featurettes (26 and 21 min), it has forced French subs on its "Early Years" doc and the feature itself, though not on its dub track. The film was dubbed there on its original release in October 1935 and again in 1985 (85 vid); the latter is included here but only in an anachronistic 5.1 surround remix.
Also ensure you give the problematic EuroVideo German DVD a swerve; although their other four Hitch-Selznick films are fine, with Steps they've opted to use a transfer of a localised theatrical release print. Thankfully, this is rare; Foreign Correspondent and Under Capricorn also have them in some cases but most home editions use the best available masters of the original English-language versions. This disc has German opening/closing credits, translated insert shots replacing onscreen text and forced German subtitles on the English audio. What's more, it's missing a shot of Hannay crossing a bridge just before arriving at the farm. Steps didn't get a German release until the tail end of 1947 and was dubbed at the time, followed by a 1966 TV dub. One of these, presumably the latter, is included as an option on the DVD.
---
Restored transfer
"This new high-definition digital transfer was created on a Spirit Datacine from a 35mm fine-grain master positive. Thousands of instances of dirt, debris, scratches, splices, warps, jitter, and flicker were removed manually using MTI's DRS system and Pixel Farm's PFClean system, while Digital Vision's DVNR system was used for small dirt, grain, and noise reduction. The original monaural soundtrack was remastered at 24-bit from the 35mm optical track print. Clicks, thumps, hiss, and hum were manually removed using Pro Tools HD. Crackle was attenuated using AudioCube's integrated workstation." – Restoration notes
Now Showing: worldwide screenings
There are only three official HD discs so far and despite some woefully muddled reviewers claiming the US Criterion transfer to be superior (confirmation bias, anyone?), they're all from the exact same restored master. See the screenshots below. Note the UK Network disc is differentiated by its subtle but appealing sepia tint, which suits the film beautifully, while the US and French are pure monochrome. The nicely-designed Criterion wins overall with its abundant extras and 20-page booklet but the UK is hard on its heels on the extras front, while the French Elephant is completely barebones but at least includes the optional 1985 dub detailed above.
Note Criterion's exclusive audio commentary by Marian Keane, who also provides a booklet essay, arguably says more about her personal fixations than anything else. Incidentally, the UK also has the distinction of being the first Hitchcock BD anywhere, with its 19 October 2009 release date edging out that of North by Northwest by a few weeks.
Moving onto the three DVD-only releases, the 2009 Criterion Essential Art House box set version, like the rest of its discs, is also completely bare. The Oz has substantial extras including an exclusive commentary by film historian Wendy Haslem but it's deleted and quite rare; try eBay, ensuring you get the right one. Meanwhile, the Brazilian set has over two hours of extras relating to some of its other films.
---
2020 update: The 39 Steps has received a brand new digital restoration! It was carried out by the the folks at ITV Content Delivery and for the time being is exclusive to UK vintage TV subscription channel BritBox but there is a distinct possibility of a future BD release. As yet, there's no word on exactly what materials were scanned for use or an objective comparison with the previous restoration; unfortunately, the before and after video clips are unhelpful in that regard.
Restoring a classic in lockdown | The restoration of T39S
---
Bootlegs
Among Hitch's relentlessly bootlegged British films, The 39 Steps, being the most popular, naturally turns up more often than any other. In addition to literally countless, extremely muddy DVDs are extras-free, pirated BD-Rs from Italy, Germany and Spain, courtesy of Enjoy, Great Movies and Layons respectively. Great Movies' BD and DVD have also been repackaged by "limited-edition" scammers Inked Pictures. The official releases all have a huge head start on this treacherous bunch; avoid them like your life and country depend on it.
Odd fact: despite original trailers surviving for at least five of Hitch's British films, only The Lady Vanishes has had hers properly released on home video. Mind you, the 1½-minute trailer for The Man Who Knew Too Much is bizarrely included 48 minutes into an otherwise unrelated Hitch documentary included on some Murder! DVDs. A bit of cheeky padding, methinks. Though the trailer for Steps doesn't appear on any licensed releases, it is on some German pirate discs, lifted directly from this, the best quality copy in circulation:
---
Screenshots
Courtesy of the invaluable Hitchcock Zone and Caps-holic.
DVDClassik: Elephant Films BD and DVD
---
Soundtrack releases
There are many official re-recordings of part and full scores from Hitch's American films but sadly not so for his British works. So far, there are only re-recorded excerpts from The Man Who Knew Too Much, this film and The Lady Vanishes. Two of them, 1995 renditions of a four-part suite from Steps (4:06) and a prelude from Lady (3:03), have appeared on various collections but the most comprehensive are:
Both also contain a prelude from Man (2:14) but it's from the 1956 version and is written by Bernard Herrmann.
Various other Hitchcock film music compilations feature selections from the above three and other British talkies, but they're almost all bootlegs too, mostly lifted directly from the film soundtracks themselves. The sole fully-licensed exceptions include two cues from The 39 Steps composed by the film's musical director Louis Levy: "The Chase on the Moor" and "Love Theme", along with passages from Blackmail, Sabotage, and Young and Innocent.
An interesting related curio is an LP of the "Complete Original Sound Track!", apparently the only release from obscure US label Spybusters Records. An unusual entry in terms of Hitch collectibles, it likely dates from the 1970s, during the period when the film was in the US public domain (1964–1995). Presumably, it judiciously edits out non-dialogue sequences to bring the 86-minute film down to less than an LP's maximum one-hour playing time. Such albums were very popular in those far-off pre-home video days, as an accessible way to 'enjoy' your fave films over and over again. They were certainly preferable to the only alternative for most: catching a rare TV screening and recording the audio direct from its speaker to cassette tape or reel-to-reel. Many similar examples were produced at the time for films rightly or wrongly thought to be PD, like some of Basil Rathbone's Sherlock Holmes series.
I've seen this brilliant film numerous times; there could never be a day when I'm not in the mood for it. But I can't stop wishing one of these days Hannay will take Margaret away with him. Mind you, I'm also still hoping for King Kong to get down safely from atop his climactic lofty perch to be returned to Skull Island and live out the rest of his long days in peace…
Part 1: Steps to inspiration | Part 2: Margaret's Story | Part 4: Remakes
---
Related articles
For more detailed specifications of official releases mentioned, check out the ever-useful DVDCompare. This article is regularly updated, so please leave a comment if you have any questions or suggestions.