Note: this is one of 100-odd Hitchcock articles coming over the next few months. Any dead links are to those not yet published. Subscribe to the email list to be notified when new ones appear.
There's much truth in an old quote, which is much-paraphrased and parodied to the likes of "Behind every successful man, there stands a surprised woman." It's not true in Alma Reville's case though, because she, more than anyone else, helped put Alfred Hitchcock at the top of his profession. Without her lifelong personal and professional support, his career as we know it would not have been possible.
"The Hitchcock touch had four hands and two were Alma's." – film critic Charles Champlin, Los Angeles Times, 29.6.1982
Though he's often referred to as "The Master of Suspense", let's not forget that Hitch's exceptionally talented wife, Alma Lucy Reville (1899–1982), was largely and sometimes almost equally responsible for the look and feel of his films. When they met at the very beginning of his foray into film she was already employed by her second studio, in a well-established career that saw her working primarily as a scriptwriter and editor.
Alma even had some bit parts and a leading role in front of the camera under her belt, as the daughter of the titular character in the prestigious production of The Life Story of David Lloyd George (1918), helmed by Maurice Elvey. Incidentally, leading stage and screen actor Norman Page, who starred opposite Alma, like her was also from Nottingham – I'll come back to that in a minute. Elvey's film was long thought lost but a single copy was discovered in the Lloyd George family archives in 1994. Following a two-year restoration, it was given a lovely, specially composed orchestral score by John Hardy and screened worldwide to great acclaim.
It has since been released exclusively on UK DVD by The National Library of Wales; there's a lengthy silent extract on their website. The DVD includes a new score by Neil Brand, an interview with film historian Kevin Brownlow and a 16-page booklet. Lastly, there's also an introduction by Philip Madoc, who essayed the titular role in BBC Wales' sprawling, nine-hour, 1981 miniseries – or perhaps that should be maxiseries. There's also an excellent essay collection, published in 1998, that deals with every aspect of the film from its inception right up to its latter-day rediscovery, restoration and release.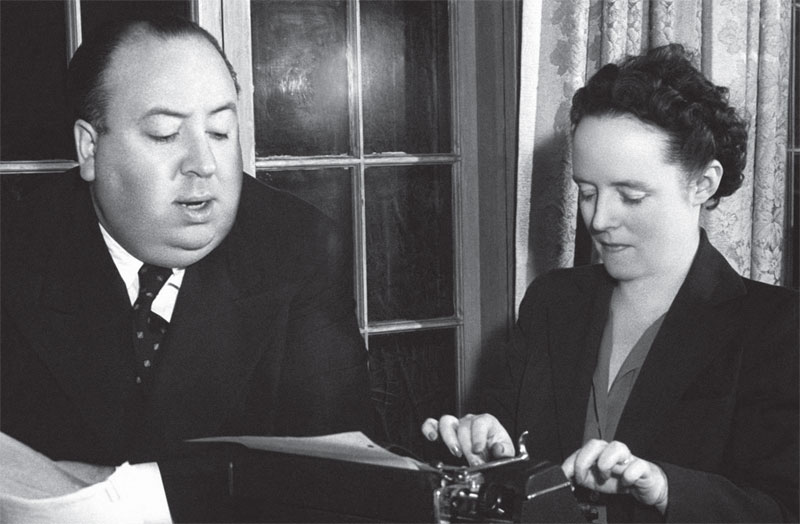 Let's not forget The Lodger, Hitch's renowned breakthrough film: although Alma only had an assistant director credit, she also had a hand in the script and briefly appeared in it, as did Hitch. She also had at least one other brief cameo, in Sabotage; this time with their daughter Pat. Ultimately though, Alma subsumed her own burgeoning ambitions in order to further support those of her husband. In this, her contribution cannot be overstated. Indeed, even a cursory glance at any of the 13 non-Hitch productions in which she has a writing credit repeatedly reveals striking examples of what is commonly thought of as the Hitchcock Touch.
Of course, the majority of the hundreds of books on Hitch mention Alma to a greater or lesser degree, but none focus on her, or their life together, as much as two for which their daughter Pat is partly responsible. The first is her highly personal memoir and tribute to her mother, while the latter draws on a multitude of never-before-seen photos and documents from the family archives. In a 2012 New York Times article about just-released competing biopics Hitchcock and The Girl, and their contribution to Alma's overdue public attention, Mary Stone, one of Pat's three daughters, said "It's time someone heard about her. She deserves 100 percent of the recognition she's getting." In the same piece Helen Mirren, who starred as Alma in Hitchcock, cited Pat's book as the loftiest compliment to her real-life character. "She was the child of Alfred Hitchcock and chose to write a book about her mother."
Alma also gets an affectionate précis of her life in "Alma: The Master's Muse" (12:25), a segment of the four-part documentary "Partners in Crime: Hitchcock's Collaborators" (2008, 54:52). Also profiling Saul Bass, Edith Head and Bernard Herrmann, it's included on the Special Edition 2-DVD sets and all HD discs of Vertigo.
Will the real Mrs Hitchcock please stand up? – Josephine Botting
Dans l'ombre d'Hitchcock, Alma et Hitch (2019, 54min, website, trailer/#2, report) is a French documentary broadcast under different titles internationally. Look out for its reappearance on Arte, with optional French and German subs. In the meantime, here's another:
Alma Reville: The Last Word on Hitchcock
In addition to Alma's many writing and directing credits on his films, for almost all of Hitch's career she was a constant advising presence on set and he hardly ever made a decision without first consulting her. David Freeman was Hitch's final co-screenwriter, working with him on The Short Night, a script that ultimately went unproduced, due to Hitch's failing health. Freeman kept a journal of their time together which was published as The Last Days of Alfred Hitchcock (1984), along with the finished script. In a 1982 extract, Freeman wrote of Alma:
"Her opinions were of great importance to Hitchcock. He called her The Duchess, and if The Duchess didn't like something, then it was of no value. She was a court from which there was no appeal. One anecdote is revealing. In Vertigo there's a strange cut in the first bell-tower sequence. Kim Novak runs away from James Stewart, across an expanse of field. She starts running, then cut: she's across the field and Stewart has caught up with her. The transition is disconcerting since there are no other cuts of this sort in the picture. Hitchcock said that when Vertigo was finished, he took it to New York to screen it for the Paramount executives. The film had been with George Tomasini, the editor, and Hitch hadn't seen it in ten days. Hitch, Alma, and several others watched the final cut before they showed it to the studio.
When the screening was over, Hitch asked Alma what she thought. She said, as Hitch recalled, it was fine, but 'of course you're going to do something about that shot.' 'What shot?' he asked nervously. 'Why, that shot of Kim running. Her legs are so fat. It looks awful.' Hitchcock issued the order to Tomasini: cut out the run. Alma's criticism was answered. Kim Novak's heavy legs were concealed and all logic left on the cutting room floor."
In March 1979, at the age of 80, Hitch was given the American Film Institute's Life Achievement Award at the special "AFI Salute to Alfred Hitchcock" (transcript). He was knighted the following December and died in April 1980. The extent of Alma's influence on his life's work was perhaps best summed up by Hitch himself. During his Life Award acceptance speech, he said:
"I beg permission to mention by name only four people who have given me the most affection, appreciation, encouragement and constant collaboration. The first of the four is a film editor, the second is a scriptwriter, the third is the mother of my daughter, Pat, and the fourth is as fine a cook as ever performed miracles in a domestic kitchen. And their names are Alma Reville.
Had the beautiful Miss Reville not accepted a lifetime contract, without options, as 'Mrs Alfred Hitchcock' some 53 years ago, Mr Alfred Hitchcock might be in this room tonight. Not at this table, but as one of the slower waiters on the floor. I share my award, as I have my life, with her."
 AFI: AH on Filmmaking
Although around 40 minutes of clips are available, the original 72-minute TV broadcast has only been released in the US on VHS and LaserDisc (1991). There is also a 15-minute edit included on the bonus disc of the US 15-DVD Masterpiece Collection (2005) and various 2-DVD Special Editions of Psycho.
I'm very happy that Alma hails from my hometown of Nottingham and was born on the 14th August 1899 (one day after her husband) in her parents' house very close to where I'm writing this. Though their house is long since demolished, the photographs here, here and here show the area still largely unchanged in later years. Alma didn't live here for long though, as her family moved to London when she was still an infant. Her lace warehouseman father started working in the textile department at the then new London Film Company and she soon joined him there as a tea girl. Before long she involved herself with the technical side of filmmaking and rose swiftly through the ranks. The rest is history. Hitch has several commemorative heritage plaques in the UK alone, while Alma has just one – for now:
Commencing in 1996, the British Film Institute organised a wide-ranging slate of activities, events, radio and TV programmes, etc, to commemorate the "Centenary of Cinema". People were also invited to petition the BFI to have notable dates, places and personalities connected to the history of cinema to be recognised with a series of heritage plaques. Lawrence Geary of the Cinema Theatre Association organised two of four allocated to Nottingham; one marked the site of the first public screening of films here. The other was unveiled on Alma's 100th birthday, close to her birthplace, and the ceremony was attended by her daughter Pat Hitchcock O'Connell.
At present, it's mainly Alma's collaborations with her husband that are readily available to view, so don't miss any opportunity you get to see a screening of any of the extant non-Hitch films she had a hand in. The most likely candidates are two she co-wrote: The Constant Nymph (1928) is the first and easily best of three silver screen adaptations of Margaret Kennedy's scandalous 1924 best-seller. The film was long thought lost but some worn, tinted 16mm prints were eventually discovered, allowing it to be restored by the BFI. A British sound remake followed in 1933, with an American version in 1943. Though the BFI Archive holds a copious amount of early film materials on the first remake, only the second is thus far available on DVD and digital.
Alma's other viewable film is The First Born (1928), based on an original script written with Miles Mander, who also produced and co-starred. Three years earlier he played the lead in The Pleasure Garden, Hitch's directing début, and went on to appear in Murder! and Mary. The First Born features a heartbreaking early turn by a still-brunette Madeleine Carroll, who was later Hitch's original icy blonde in The 39 Steps and Secret Agent. Thankfully, once again the BFI holds a large quantity of early film materials on The First Born, allowing them to produce a superb tinted restoration. I've been lucky enough to see it twice, in the UK and Italy, each time accompanied by Stephen Horne's achingly beautiful, specially commissioned score. I shan't rhapsodise too much over the film, other than to say it's utterly brilliant and in many ways the equal of anything Hitch himself directed during this period. Indeed, it often feels as though you're actually watching one of the Master of Suspense's own efforts (clip). The Reville Touch at work, perhaps? Both films really deserve to be out there – anyone up for a decent crowdfunder? Seriously, we could make it happen; just get in touch.
---
Related articles
For more detailed specifications of official releases mentioned, check out the ever-useful DVDCompare. This article is regularly updated, so please leave a comment if you have any questions or suggestions.