Iconic comedy duo who débuted in Alfred Hitchcock's The Lady Vanishes
Quintessentially English, eccentric and cricket-obsessed pair were a big hit
Audiences demanded more and got it, even after split from their creators
Carved out their own niche in much-loved series of films and radio shows
Complete guide to all of their films on home video – and bootlegs to avoid
Alfred Hitchcock Collectors' Guide: The Lady Vanishes
---
Contents
---
A most fortuitous pairing
The origin story of Charters and Caldicott, as embodied by Basil Radford and Naunton Wayne, is a simple one: the characters were entirely the invention of screenwriters Frank Launder and Sidney Gilliat. They were conjured up in the process of moulding Ethel Lina White's 1936 novel The Wheel Spins into an altogether more filmable beast, one with broader appeal and a heightened sense of topical urgency. The resulting film, Alfred Hitchcock's The Lady Vanishes, was the most successful of his British years and is still a bona fide classic that continues to spawn remakes and homages in just about every medium imaginable. Of course, the cricket-obsessed pair's memorable appearance received an extremely favourable response from audiences so the studio, screenwriters and actors were happy to deliver more.
Although their characters were consistently written as heterosexual where necessary, Charters and Caldicott clearly enjoyed the same boundary-pushing but non-threatening, sexually ambivalent relationship as other comedic pairings such as Laurel and Hardy. All lived perpetually in each others' pockets, often sharing the same bed (and pair of pyjamas!), while women – even the ones they were occasionally married to – were just a reductive, bothersome distraction getting in the way of their boys' own fun.
Gay Coding in Hitchcock Films – Scott Badman and Connie Russell Hosier
Following Vanishes, C&C had another supporting role before toplining a film of their own but frustratingly, though it was a modest success, they were again relegated to support slots in two more. When faced with the same situation in a third, I See a Dark Stranger, they rightly demanded larger roles in it. Remember: by now they were well established stars of radio, stage and screen, both individually and collectively. However, Launder and Gilliat refused their request for Stranger and so the actors parted company with the production and their Launder and Gilliat-owned monikers. But Radford and Wayne continued to work together, albeit billed under various different names, and made seven more great films, including another starrer, and recorded various BBC Radio plays. All are with essentially the same C&C personae and well worthy of investigation.
Peter Storey, who runs the duo's jolly good fansite, penned C&C: As War Begins (2015), an affectionate tribute to the pair detailing their four screen outings under the auspices of Launder and Gilliat.
---
The Lady Vanishes (1938)
This iconic, genre-straddling film is covered in (much) more detail here:
Alfred Hitchcock Collectors' Guide: The Lady Vanishes
---
Night Train to Munich (1940)
Their second film together is an equally worthy quasi-follow-up to The Lady Vanishes and essential viewing for Hitch fans. Scripted by the same team of Launder and Gilliat, it has a similar setting and like its predecessor also stars Margaret Lockwood, while the prodigiously talented Carol Reed directs with his typical verve. As with the Hitches, avoid the bootlegs comprised of fuzzy off-air recordings; they've been kicking around for years via numerous budget VHS tapes from supposed public domain companies, several of whom are also responsible for more recent DVD boots. These include the UK (Firecake/coll), US (Artiflix, Madacy/Hollywood Mystery Classics [sic] tin, Nostalgia Family, Timeless), Australia (Bounty Films), Korea (Starvision), etc. So far, the only legitimate releases are:
Criterion essays:
---
Crook's Tour (1940)
Crook's Tour originated as a 1940 radio serial scripted by Launder and Gilliat, and its enthusiastic reception saw it put into swift turnaround as a film. This time C&C are promoted from supporting roles to playing front and centre, as they're reluctantly drawn into a spy caper and much déjà vu ensues. 1942 saw both pairs of men reunited for another BBC radio serial, the sequel Secret Mission 609. The film's transferred in excellent condition as an extra on Criterion's The Lady Vanishes discs, which are its only legit release to date.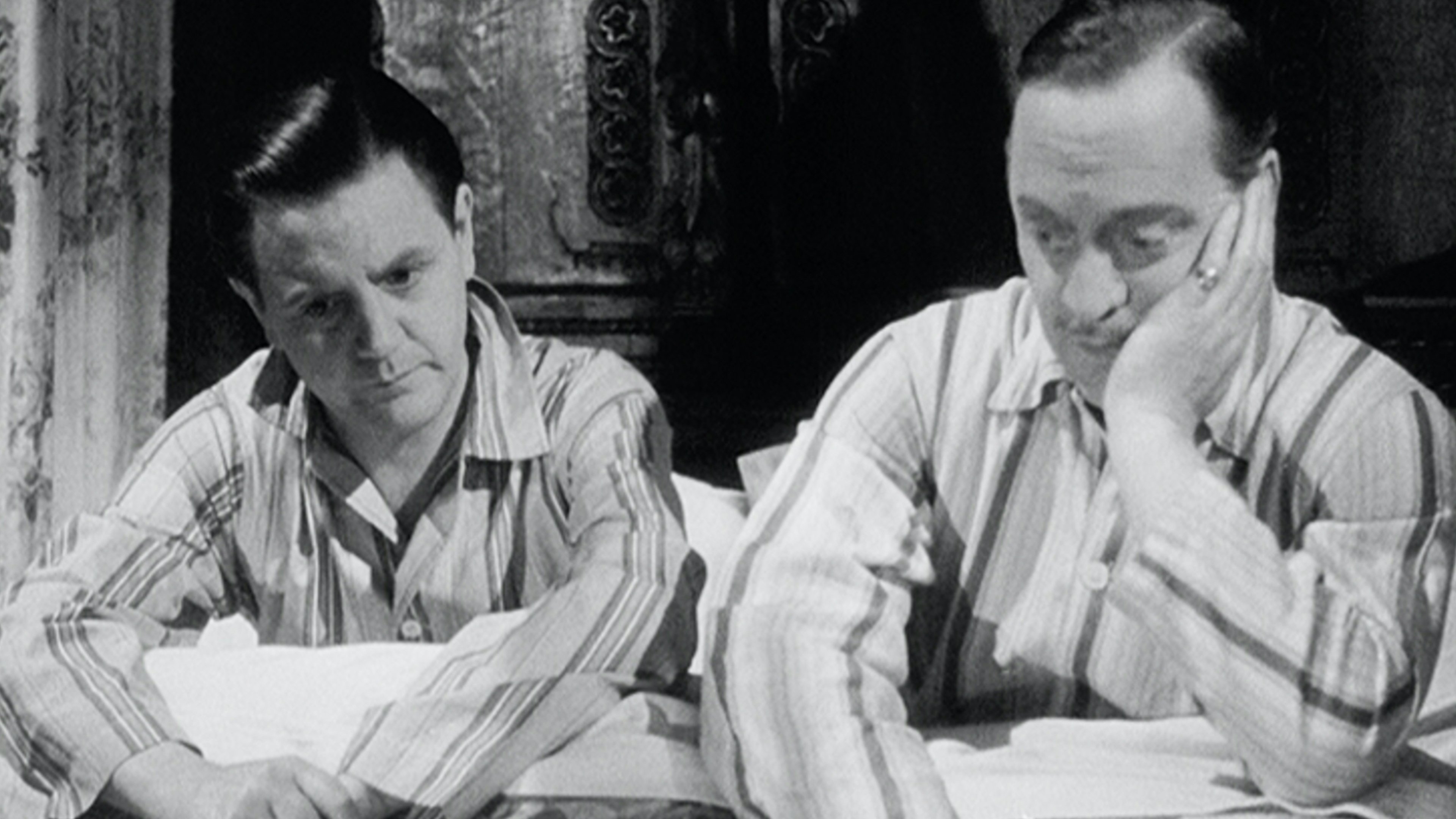 ---
The Next of Kin (1942)
C&C's next support spot was in this effective propaganda effort, which is also notable for starring Nova Pilbeam, veteran of The Man Who Knew Too Much and Young and Innocent. Which is why I've already dealt with it here:
Nova Pilbeam Collectors' Guide: The Next of Kin
However, for C&C their brief, unnamed appearance in the final scene as a pair of Careless Talkers on a train is a relative blip but their next one is a real masterpiece…
---
Millions Like Us (1943)
Get your hankies at the ready if you plan to catch C&C's cameo in Millions Like Us, another jewel written and directed by Launder and Gilliat, their last with the cricket-mad pair. It's a major British film of the period depicting life on the home front and one of my absolute faves, transcending its propaganda-driven roots with ease. Do watch it. DVDs have been issued several times in the UK and once in Australia which are all identical in content, containing only the film and no subs. The US Reel Vault DVD and any others are just shoddy bootlegs.
---
The Halfway House (1944)
I confess, this film has no direct connection to C&C but having featured Dead of Night below, I'd be seriously remiss in not mentioning its immediate thematic progenitor. Likewise made by Ealing Studios, with many of the same cast and crew, and even the same poster artist, it's based on Denis Ogden's 1940 play The Peaceful Inn, also broadcast by the BBC as a 1945 radio play and 1957 TV movie. Among many other familiar faces, Ealing regular Mervyn Johns takes the lead, this time playing the father of his real-life daughter Glynis Johns. Though the play had no wartime references, here it's been given a gently propagandist heart yet overall this is a ghost story for the ages and absolutely unmissable. For years, the only legit release was Optimum's DVD with its decent, albeit ageing, transfer but the film was recently restored to pristine condition and is now best seen on a trio of UK releases:
Ealing Studios: Introducing, At War, The Ealing Comedies (1970), Omnibus: Made in Ealing (1986)
---
Dead of Night (1945)
There's no denying this is a stone cold classic, both of Ealing Studios and cinema in general. Ealing stalwart Mervyn Johns pops up again, joined by a host of faces familiar to fans of British films of the period. By now, Radford and Wayne had split with Launder and Gilliat, henceforth were C&C no more. Here, they're billed as George Parratt and Larry Potter. The film's most celebrated segment, "The Ventriloquist's Dummy", is a classic piece of psychological horror and should be seen in tandem with "The Glass Eye", an equally creepy third season episode of Alfred Hitchcock Presents. In other media, the cover story of the June 4, 1938 issue of Love Tales Weekly appears to be in a similar vein but copies are now scarce.
There are two Dead of Night home video transfers to choose from; while neither is perfect in terms of light scratches and so on, the differences are quite striking. The older one provides perfectly acceptable viewing but is quite flat and somewhat hazy, consisting of a wash of greys with relatively few discernible blacks or contrasting highlights. However, the latest transfer, from a 4K restoration and so far only available on a trio of discs from Kino Lorber and Versatil, is another matter entirely. It's highly detailed with better resolved grain and really pops in a natural, organic way, while on a decent system the audio is discernibly clearer and fuller-sounding.
Bootleg: Italy (Sinister Film).
NYT Critics' Picks | TCM | Remembering DoN documentary | History and Analysis | US pressbook
BD screenshots: US–UK, US–UK, US–UK, US–UK, US–UK, US–UK, US–UK, US–UK, US–UK
This 1999-recorded suite of composer Georges Auric's themes is included in a CD of his film music, detailed under Passport to Pimlico.
---
I See a Dark Stranger (1946)
The last film Wayne and Radford were due to appear in as Charters and Caldicott before their contractual fall-out was I See a Dark Stranger, retitled The Adventuress in the US. In the event, their intended roles were played by other actors using different names. A pity, but it's still written, produced and directed by prime-era Launder and Gilliat so is well worth checking out.
---
A Girl in a Million (1946)
Unavailable; BFI Archive holdings.
---
Quartet (1948)
Following Dead of Night (and The Halfway House), our now revolvingly renamed duo make an appearance in "The Facts of Life", the first section of another anthology film, Quartet, this time based on the work of master storyteller W. Somerset Maugham. It spawned two sequels, the first of which, Trio, with a solo Wayne, features a final segment based on Maugham's 1927 collection Ashenden: Or the British Agent, also the inspiration for Hitch's Secret Agent. The second sequel, Encore, was the final film made by Gainsborough Pictures before the studio was merged into the Rank Organisation and a fitting end to a first class legacy. All three are available on, ahem, a quartet of releases:
The first two films were also released on 2on1 DVDs given away with a Greek newspaper:
---
It's Not Cricket (1949)
After Crook's Tour, Radford and Wayne's second and final co-starrer sees them occasionally upstaged, not to mention seriously discombobulated, by consistently underrated Diana Dors, in an early role for the soon-to-be-billed "British Marilyn Monroe".
UK: Strawberry Media DVD (2014)
---
Passport to Pimlico (1949)
Another of Ealing's finest, it has an uproarious and multifaceted plot concerning… well, if you don't know, it hardly matters; the important thing is that you miss it at your peril! It's been adapted for BBC radio twice, in 1952 and 1996, and for the finale of 2013's SouthWestFest was even transformed into an uproarious outdoor musical set in the streets of Pimlico itself: production, review/#2, videos. No new restoration for this one as yet but a nicely remastered transfer transfer graces all the post-2012 releases.
Original
Remastered
Original trailer | Clips: #1, #2, #3 | restoration comparison | Locations/#2/vintage | PtP at 70: In Search of the Locations
Portions of renowned French composer Georges Auric's fine score have seen a couple of excellent digital stereo re-recordings, both based on the same reconstructions by composer-musicologist Philip Lane. They foreground subtleties and dynamics not always present in the original mono soundtrack recording, especially when overlaid with dialogue and effects.
---
Stop Press Girl (1949)
Unavailable; BFI Archive holdings, published script.
---
Helter Skelter (1949)
Unavailable; BFI Archive holdings.
---
Charters and Caldicott (1985)
Almost four decades on from their last official big screen outing, The Lady Vanishes 1979 remake saw the revival of C&C played by Arthur Lowe, of Dad's Army fame, and screen comedy stalwart Ian Carmichael. Six years later, the characters appeared for the last time in an updated in a six-part BBC TV series, very ably played by Robin Bailey and Michael Aldridge. It was also simultaneously novelised by Stella Bingham and has so far seen just one release:
UK: Simply Media 2-DVD (2016)
---
Related articles