When Alfred met François: iconic directors joined forces for renowned series of interviews
Far-ranging conversations that spawned multimedia franchise enduring to the present day
The most significant spin-offs influenced generations of fans, filmmakers and scholars alike
But buyer beware: the "Hitchbook" and its progeny are very unreliable as primary sources
Many of the Master's most famous statements are taken out of context or lost in translation
His Master's Voice: it's time the original tapes were heard, transcribed and annotated in full
Missing the Female Gaze: lifelong collaborator has no input; all spin-offs compound oversight
Note: this is part of an ongoing series of 150-odd Hitchcock articles; any dead links are to those not yet published. Subscribe to the email list to be notified when new ones appear.
Part 2: The spin-offs
By the late 1950s, Hitchcock had conquered Britain, America and the rest of the world. Any magazine, book, film or television project with his name attached was an almost guaranteed moneymaker. Studios and the public adored him, yet the one thing he didn't enjoy was widespread critical acclaim. Some determined young critics and filmmakers, and one in particular, set out to change all that…
---
Contents
---
The talk
Alfred Hitchcock (1899–1980) is the undisputed doyen of modern filmmaking. Every aspect of his long life and career are constantly scrutinised, dissected and feted by fans, critics and academics alike. When it comes to being both analysed and adored, no one else in film history, with the sole exception of Charlie Chaplin, even comes close. Hitchcock's biographical legacy, renown and status are unassailable, yet his current position and public image only really started to coalesce from the 1950s onwards, over 30 years after he entered the industry.
His full critical reappraisal took even longer but began in earnest when French critic, filmmaker and Hitchcock acolyte François Truffaut (1932–1984), hot off the back of directing instant New Wave classics The 400 Blows (1959), Shoot the Pianist (1960) and Jules and Jim (1962), initiated a series of career-spanning, in-depth interviews commencing in August 1962. The initial sessions were held in Hitchcock's office at Universal Studios over the course of a week, during post-production for The Birds. As Truffaut knew little English at the time, their conversations were conducted via his regular interpreter, Helen Scott of the French Film Office in New York, and documented by accomplished portrait photographer Philippe Halsman.
Though it wasn't much use in Truffaut's case, Hitchcock was, of course, fluent in German. This stemmed largely from having made several of his earliest films there, including his first two solo efforts, The Pleasure Garden and The Mountain Eagle. He also went on to record special German-language introductions for Alfred Hitchcock Presents and appear in several German trailers for his films, such as Psycho and The Birds, and various TV interviews, such as this:
"If, overnight, the cinema had to do without its soundtrack and become once again a silent art, then many directors would be forced into unemployment, but, among the survivors, there would be Alfred Hitchcock and everyone would realize at last that he is the greatest film director in the world." – Truffaut: Correspondence
The director as auteur theory had been championed for some time by Truffaut and his contemporaries, and Hitchcock was his idol. This made him the ideal person to help reveal what lay behind the magic curtain of the Master's art. Up until this time, Hitchcock was merely thought of as an effective director of entertaining films, whereas the French considered him an auteur par excellence. However, we mustn't forget that the man himself worked hard to cultivate the image of a light entertainer; one not to be taken too seriously. This he did to great effect and financial reward, chiefly via his TV series and publicity for his films. He was certainly far more concerned with making money than being considered as a serious artiste. Personally, I think both approaches are not mutually exclusive and the real Hitchcock lies somewhere in the middle.
Throughout the interviews, Hitchcock demonstrates incredible powers of recall about the tiniest details of his productions. He repeatedly explains how frequently almost every aspect of each film was meticulously worked out in pre-production, often with little deviation from the plan once actual filming commenced. Time and again it's shown how each set-up, shot, prop, foley effect and edit – of both sound and image – was carefully constructed to be part of a cohesive whole, and all in service of telling the story.
The Directors – Robert Coughlan (papers/alt), Life, Dec 20, 1963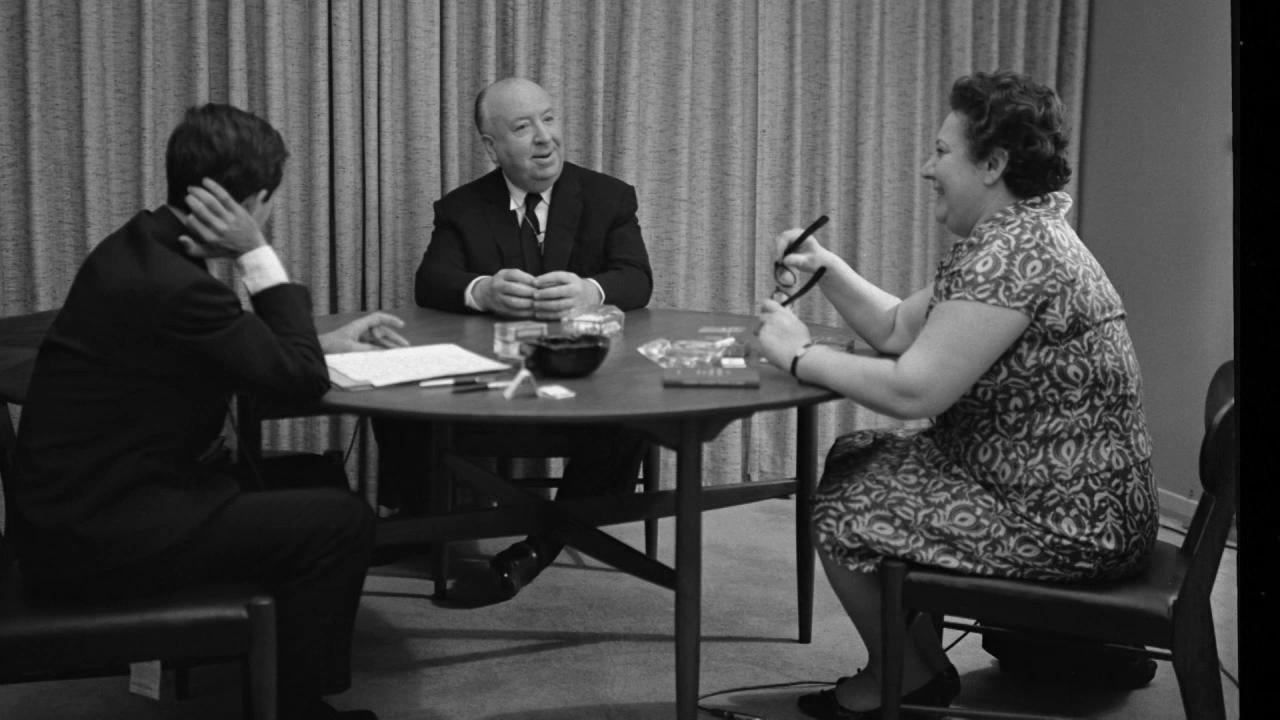 The interviews as a whole are pretty much unsurpassed in the annals of filmmaking but are avoidably lacking in several key areas. One is that Hitchcock, while happy to go into the minutest detail about films he's proud of, is often completely dismissive of many works from the early part of his career. Repeatedly, he even directly contradicts his own previous declarations on them; this has helped lead to a chronic muddying of the waters regarding the Hitchcock legacy. Countless biographers, academics, bloggers and fans have taken his negative comments at face value and used them as evidence to "prove" that most of his British films are basically rubbish or of negligible interest at best.
The Mountain Eagle, already lost by 1962, is elided with a few utterly dismissive sentences before Hitchcock declares, 'The Lodger was the first true "Hitchcock movie."' Truffaut agrees: "…The Lodger was really the first Hitchcockian picture, primarily through the theme that recurs in almost all of your later works: a man accused of a crime of which he's innocent." This, despite the fact he's also describing the plot of The Mountain Eagle though Hitchcock offers no correction, either during the interview itself or in his final approved draft. Nonetheless, Hitchcock's somewhat disingenuous declaration endures as the most common descriptor applied to the film.
But, perhaps most importantly, consider this: in brief, the tapes were transcribed and translated fully into French by Helen Scott. She and Truffaut then spent four years editing the initial results down in both languages simultaneously, far longer than he had originally anticipated. Scott, though incredibly accomplished in her own right and far more than a mere 'translator', was extremely compromised by the fact she wasn't very familiar with Hitchcock's oeuvre (or the film industry in general). She certainly hadn't watched most of his works and studied them with the eye of a critic and filmmaker, as had Truffaut. In all, their co-editing/co-authoring operation was an extraordinarily complex transatlantic affair, mostly conducted by letter, also involving many more people, and necessitating countless technical considerations and editorial rewrites. Is it any wonder then that so much of the original discourse became completely distorted in the process? And let's not even get into the book's subsequent translations into Spanish, Italian, German and Japanese…
For instance, Truffaut: "Your next picture, Downhill, is about a boy who's accused of a theft in his school." He wasn't; not even close. But had Truffaut seen an altered, censored version, or was it just an egregious translation error? And if Hitchcock actually approved the final draft, why didn't he or one of his close associates pick up on this? But there are dozens of similar examples throughout. Then there are the many spelling mistakes and grammatical errors which persist; for instance, there's the noted critic "James Agate" [Agee]. Referring to Psycho's shower scene, Truffaut says, "Hitchcock informed me that the attacker was a young woman wearing a wig. He added that the scene was shot twice because, although the only lighting was placed behind the woman, the reverberation [reflection] of the white bathroom walls was so strong that it revealed her face too clearly."
Truffaut was a true visionary in conceiving the idea for the interview and book, and incredibly dogged in seeing it through to completion. This came at great personal effort, expense and no little amount of stress; the whole story of how the book came to actually be would make a great dramatic film in itself. But it cannot be denied that Truffaut as architect and Scott as chief collaborator are at a severe disadvantage in several key areas: their collective lack of familiarity with English, and British English in particular; film history, especially of the silent period; film technique; Hitchcock's work itself and the greater milieu to which it belongs; the constraints of communications and publishing technology; and so on. A much better sense of all the above is imparted by film scholar and author Janet Bergstrom in her excellent essays on the subject:
Also well worth perusal is Hitchcock on Truffaut by Hitchcock Annual editor Sidney Gottlieb, published in Film Quarterly (2013). Relevant audio interview extracts are now frequently appended to home video releases of Hitchcock's films, thus many fans are already somewhat familiar with his unadulterated word. But it's high time the tapes were made available in their entirety, along with any extant others from his and Truffaut's subsequent interviews. Bergstrom ends her first essay with a plea for a team of Hitchcock experts to provide "reliable annotations, as has been the practice for comparably significant critical editions of literary works."
Any such project should certainly include my friend Jean-François Cornu, a noted French film historian, author and translator. He's made a years-long study of Hitchcock/Truffaut, taking into account the published work in several languages, the original recordings and numerous other primary sources. He's long wished to publish a fully annotated edition of the book featuring the many necessary clarifications and corrections. This truly would be the definitive version, and could finally be safely referred to as a primary source itself. If any publishing houses or benevolent Hitchcock fans would like to see it become reality, please get in touch!
The phenomenon of Hitchcock deliberately reshaping his recollections especially applies to the earliest films he had a lesser role in while learning his craft, and those he was contractually obliged to make when his UK box office appeal was waning – albeit only temporarily. Exacerbating this is Truffaut's clear bias towards the US-made films, leading him to push Hitchcock into making his famously misquoted pronouncement on his two versions of The Man Who Knew Too Much. That and numerous other quotes have been lifted directly from the book, stripped of all remaining context, and repeated ad nauseam, despite often being partly or even wholly untrue. – As Sidney Gottlieb (ed.), says in his introduction to Alfred Hitchcock: Interviews (2003), just one of several more reliable alternatives to Hitchcock/Truffaut:
"And André Bazin, Chabrol and Truffaut (the latter two of whom yield to no one in their appreciation of and enthusiasm for Hitchcock) were all at various points outraged and exasperated by their discovery that in his interviews Hitchcock was a gleeful manipulator and sometimes, as they saw it, a downright and irresponsible liar."
In fairness, Hitchcock's British films were far less accessible back then, if at all, and it would have been virtually impossible for Truffaut and his like-minded contemporaries, for instance Robin Wood, to have seen many of them. The net effect of all this is that Hitchcock's cultural rehabilitation, deserving as it was, came to be largely predicated upon his American movies. Even to this day, his pre-Hollywood career is often dismissed as not amounting to much more than a collection of 'student' films or rehearsals for the greatness to come. All too often any praise for, say, The 39 Steps is quickly followed by the declaration that its themes and ideas only realised their full potential in North by Northwest. Ad nauseam. It's reminiscent of the annoying habit of those Pavlov's dogs who, on the merest mention of Chaplin, have to quickly parrot the line that they prefer Keaton, as he's so post-modern/ironic/unsentimental… (delete as appropriate). What absolute rot – and for the record I love both actors, and sides of Hitchcock's career.
The tide is slowly turning though: a few decades of more objective study and criticism have proved that Hitchcock's British films, especially the ones he solely directed, have much to recommend them and are worthy of being considered an equally important part of the Master's canon. Allied to this is the increasing availability of high quality releases, rather than the multitude of substandard bootlegs that too many are still basing their opinions on.
Significantly, the book as published makes hardly any mention of Hitchcock's often iconic scores or their composers. He expresses his disappointment at the onscreen depiction of Franz Waxman's "Lisa" song in Rear Window; the sound design of The Birds being supervised by Bernard Herrmann; and both men discuss the Storm Clouds Cantata appearing in both versions of The Man Who Knew Too Much. But these and other mentions of the films' music are incidental, and restricted to how it relates to specific moments onscreen. An awestruck Truffaut was clearly content to keep the focus on his idol. His other hugely significant omission was in not inviting Alma Reville to partake in the interviews; Hitchcock's wife was his personal partner and professional collaborator throughout his entire career. As a result, we're getting little more than half the story and we can only wonder at the insights she would have revealed about their joint filmmaking process.
---
The book
The interview sessions were recorded on reel-to-reel tape and edited extracts subsequently formed the basis of Le Cinéma selon Hitchcock [LC according to H], first published in France in 1966. By 1967, Truffaut had met with Hitchcock again for a second interview in London in July 1966, two years after the release of Marnie and days before the US première of Torn Curtain. Now updated to take account of those two films, the book was published worldwide, simply as Hitchcock/Truffaut (1967). Around 26 hours of interviews were recorded altogether and 11½ hours, as broadcast on French radio during Hitch's 1999 centennial celebrations, can be listened to here and here. It's well worth doing so, as they include a lot of anecdotes and asides that didn't make it into the book. Even of those that did, hearing them in their original form casts many in a whole new light. Even with constant interruptions for translation on the fly, hearing the tone and rhythm of both mens' voices is often doubly revealing.
Remaining friends with his mentor to the end of his days, Truffaut famously declared at the 1979 AFI Salute to Hitchcock:
"In America, you call this man 'Hitch'. In France, we call him 'Monsieur Hitchcock'. You respect him because he shoots scenes of love as if they were scenes of murder. We respect him because he shoots scenes of murder like scenes of love!"
In the revised Hitchcock/Truffaut, he also said, "It occurred to me that in Hitchcock's cinema, which is definitely more sexual than sensual, to make love and to die are one and the same." Which chimes with the French expression, la petite mort (the little death), commonly used to describe orgasm.
Hitchcock met Truffaut several more times during the late 1960s and 1970s, each time asking further questions about his icon's life and career to date. After Hitchcock died in 1980, Truffaut updated the book a third and last time with a new preface and final chapter on the later films. Sadly, this proved to be shortly before Truffaut's premature death aged only 52, following a stroke and the diagnosis of a brain tumour. For all its shortcomings, Hitchcock/Truffaut is rightfully and universally acknowledged as an all-time classic yet thoroughly accessible film text. It's never been out of print and continues to elicit accolades from all quarters, as well as inspire many related works. If you only ever read one book on Hitchcock and possibly even on film in general, make it this one. It stands as a fantastic tribute to both giants of cinema.
Filmmaker Brais Romero edited this expertly compiled analysis of Hitchcock's influence on Truffaut's films:
The bottom line is that Truffaut did the best job he could with limited resources, technology and time but the fact remains that Hitchcock/Truffaut is a deeply flawed work. It's all compounded by Hitchcock's frequent habit of, to put it mildly, bending the truth. It's truly tedious constantly issuing correctives to those who regularly cite it as if it was gospel, with the recent eponymous documentary being perhaps the best known example. Given the vast amount of money made on the countless copies sold of its multiple pressings, translations and spin-offs, it's shameful the book has never been properly proofread, annotated and updated. At least in terms of his lifelong self-mythologising, Hitchcock would love the way it all turned out!
Part 2: The spin-offs
---
The posts
Want more Hitchcock? Here you go:
For more detailed specifications of official releases mentioned, check out the ever-useful DVDCompare. This article is regularly updated, so please leave a comment if you have any questions or suggestions.