1933–1938 Films
The international solution to language-restricted talkies passes its peak years
However, many classics were yet to be made before the advent of WWII ended the practise
The advent of talkies introduced many problems and to get around these, multiple-language version (MLV) films were the preferred choice of many studios. To make several different-language versions of a film, often at the same time, using the same sets, costumes, etc. but usually with different casts and crew. This expensive and ultimately less profitable practice was only popular for a few years, but in its time it led to hundreds of films being made using the process – some in up to 13 different languages! The MLV format is still invoked occasionally even now, for Eastern Asian blockbusters and the odd international release, but these are fairly isolated exceptions.
Here I'm listing the best early MLVs easily available to watch or buy in at least two of their different versions. There are lots more available on disc in only one iteration – usually the domestic – but in the absence of their siblings to compare them with, they're basically just… films. I sincerely hope this series on MLVs will help in some small way to reawaken popular interest in this fascinating yet unjustly forgotten chapter in cinema history.
---
Contents
---
Don Quixote (1933)
Another G.W. Pabst-directed MLV, following The Threepenny Opera (1931), Don Quixote starred legendary operatic bass Feodor Chaliapin as the deluded windmill botherer. He got to sing four songs in all three versions, in French, English and German. It was the first sound version of Miguel de Cervantes' classic novel and Chaliapin's only sound film.
The English and French versions have been released on a US R0/NTSC DVD as the Adventures of Don Quixote, the English version's original UK title. It has English, French, German, and Italian subtitles.
---
Playing at Love (1933)
Max Ophüls' fourth and fifth directorial outings were sequentially shot German (Liebelei aka Flirtation/Playing at Love) and French (Une histoire d'amour aka A Love Story) versions of that perennial staple, the love triangle. Most of the leading cast, including Magda Schneider, feature in both versions. The lighthearted titles are misleading; this is a largely dark tale with (spoiler alert) no happy ending. They're based on the eponymous 1894 play by Austrian doctor-author-playwright Arthur Schnitzler and had already been filmed twice, in Denmark (1913) and Germany (1927). A French-Italian remake, retitled Christine, followed in 1958 with Magda's daughter Romy replacing her in the title role. A German TV play was broadcast the same year and most recently came a 1969 German TV broadcast of the stage play itself.
The French VHS contains both MLVs and there have been several other releases of the German version.
Christine (1958)
---
S.O.S. Iceberg (1933)
The snow and stunning scenery are the real stars of this Arctic-bound life or death drama. It was based on true events and is perhaps best known today for featuring future Nazi cinematic darling, Leni Riefenstahl. A German-US co-production, it was shot separately in both languages though such co-productions would imminently be curtailed by the Nazis. Although most cast members changed, Riefenstahl remained in both versions.
Kino in the US have released both MLVs, in pristine condition, on an excellent region 1 DVD with English subtitles, while Germany's Universum Film have released a DVD containing the German version only.
---
The Testament of Dr. Mabuse (1933)
This was the second of three outings for director Fritz Lang and the titular character, the others being Dr. Mabuse the Gambler (1922) and Lang's final film The Thousand Eyes of Dr. Mabuse (1960). This one finds Mabuse locked up for the past decade in a high security insane asylum. He's been incarcerated there since his failed attempt at world domination in the first film. However, this minor inconvenience doesn't appear to be stopping him from having another go. Testament became part of a long running series starring the evil super villain that continue to be made to this day, almost a century since the first.
Notably, the music for Testament was composed by Hans Erdmann who had previously penned the première score for vampire classic Nosferatu (1922). He went on to score another pair of MLVs, the sadly unavailable German/Polish Augustus the Strong (1936).
Cinema Then, Cinema Now: Testament | Thousand Eyes
The film premièred at 124 minutes before being whittled down to 111 minutes for general theatrical release. The current restoration is 121 minutes. A 1951 American release titled The Crimes of Dr. Mabuse consisted of the German version edited down to 75 minutes and dubbed into English. Lang shot the film simultaneously with a much shorter French version, Le testament du Dr. Mabuse, which has so far only appeared on DVD in the US. All other releases contain the superior German version only, albeit usually with a generous helping of extras. It's been issued numerous times in different countries, but these are by far and away the pick of the bunch:
You can write off almost every Dr. Mabuse-related release from Italy or Spain; as of 2018 only the latter has produced just two kosher releases of Dr. Mabuse the Gambler, from Divisa on DVD (2008) and BD/DVD (2017). Everything else from either country is a cheap bootleg.
---
The Tunnel (1933)
Der Tunnel, a bestselling 1913 German novel by Bernhard Kellermann about a subterranean Atlantic crossing, was a treatise on societal and technological progress, with a hugely ironic ending. It had spawned its first eponymous film adaptation by 1915, which was followed by a 1933 German-French co-production, shot separately in both languages.
The German version is unavailable on disc but you can see an extract here. The French MLV, Le Tunnel, starring reluctant film icon Jean Gabin, has been released there on DVD. Following closely on their heels was a similarly-titled 1935 UK version, renamed Transatlantic Tunnel in the US; also released there on DVD. Directed by the prolific Maurice Elvey, though making extensive use of effects footage from the German MLV it is none the less noteworthy for its Art Deco-inspired futuristic production design and is something of a precursor to H.G. Wells' Things to Come (1936).
---
The Merry Widow (1934)
Ernst Lubitsch's sumptuous take on Franz Lehar's oft-filmed operetta was simultaneously shot in English and French versions, both starring Maurice Chevalier and Jeanette MacDonald with different supporting casts. Although the latter version, La Veuve joyeuse, isn't available on disc, there is a small extract on YouTube, as well as a recording of Jeanette MacDonald singing the "Merry Widow Waltz" in French.
The English version has been released on a US R0/NTSC DVD, as well as a Spanish region 2 DVD. Watch out for several different poor quality knock-offs from China, Japan, Brazil and other countries. These are sourced from VHS tape and obviously to be avoided.
---
Amphitryon (1935)
Amphitryon, or to give it its full name: Amphitryon – Aus den Wolken kommt das Gluck (Amphitryon – Happiness from the Clouds), is a German musical version of Molière's slyly satirical 1668 play, after Plautus. The latter's original play was itself based on the eventful life of the Amphitryon of Greek mythology.
The director, Reinhold Schünzel, was Jewish but his work was deemed important to German culture and after being granted the status of Ehrenarier (honorary Aryan), he was allowed to continue making films under the Nazi yoke. Eventually though, his position became untenable and in 1937 he left for Hollywood. There, he continued directing and acting, eventually appearing in the surprisingly entertaining and hard-hitting US propaganda effort, The Hitler Gang (1944) as General Ludendorff. The film portrayed der Führer and his henchmen (rather accurately) as a bunch of jumped-up gangsters.
Amphitryon was originally released on a German DVD with German subtitles only, though downloadable English and Spanish subs can be found via several links. Later it also appeared as part of the aforementioned superlative Deutsche Tonfilmklassiker 10-DVD box set, with both German and English subtitles. The French version of Amphitryon, Les dieux s'amusent (The gods are having fun), is unavailable in its entirety, but both German DVDs contain a 23min featurette which features some clips in a comparison between both versions.
---
The Mountain Calls (1938)
The Mountain Calls (Der Berg ruft) was a late entry in the cycle of German mountain films, or Bergfilme, that saw its, ahem, peak during the 1920s and 1930s. It was a remake of an earlier silent, Der Kampf ums Matterhorn (The Fight for the Matterhorn, 1928). That film was based on Carl Haensel's eponymous 1928 historical novel, itself based on the diary entries of Englishman Edward Whymper, who was part of the successful but disastrous first expedition to reach the Matterhorn's summit in 1865. Luis Trenker, the star of the 1928 film, also co-wrote, directed and starred in the 1938 remake and its simultaneously shot English MLV, The Challenge. He was dissatisfied with the earlier film's version of events and with increased clout later in his career, was determined to make another version that hewed more closely to the historical facts.
This marked the film début of prolific Austrian stage and screen actress Heidemarie Hatheyer, while The Challenge was co-directed by Milton Rosmer and an uncredited Vincent Korda, with Emeric Pressburger contributing the script. At the age of 79 Trenker went climbing on the Matterhorn again and made a documentary, Ich filmte am Matterhorn (I filmed the Matterhorn, 1971), charting both his latterday experiences and those of making the three films.
The Mountain Calls has been released in Germany as a 2-DVD set including several extras, such as the 1971 documentary and a second, providing a life and career overview of Trenker. It has also been re-released in a film-only edition. The Challenge has only been released on a long-deleted UK VHS video but has been uploaded to YouTube in its entirety.
Trenker, nicknamed "Der König der Berge" after a 1940 short he made, was an avid mountaineer his whole life and was involved in numerous related film and TV productions, as well as authoring many books on the subject. Between The Fight for the Matterhorn and its remakes he also co-wrote, co-directed and starred in another of the most notable Bergfilme, Mountains on Fire (Berge in Flammen, 1931). It was based on his own novel which recounted his experiences as a soldier fighting on the Dolomite Front during the Great War. French and English MLVs, Les monts en flammes (1931) and Doomed Battalion (1932), were also produced though neither is available at present. The German MLV is on an excellent 2-DVD set which includes a feature length documentary, again made by Trenker, giving the historical and production background of the film. It has also been re-released as a single DVD, containing the film only.
Note that none of the DVDs mentioned above contain either German or English subtitles.
---
Prison Without Bars (1938)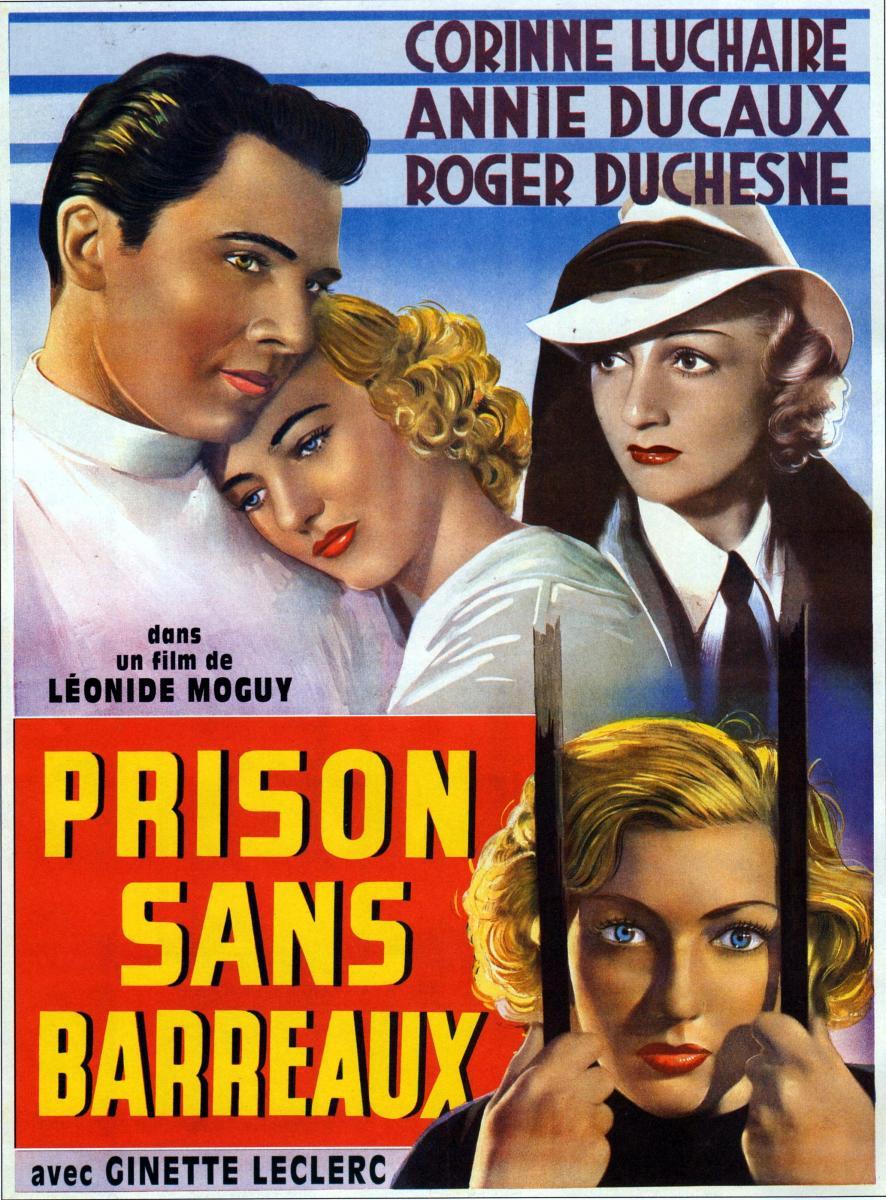 At the tender age of 17, French actress Corinne Luchaire starred in both French/UK MLVs of Prison sans barreaux/Prison Without Bars, about life in a girls' reformatory. These romantic dramas were based on the hit 1936 play Gefängnis ohne Gitter by Austrian Gina Kaus, who also adapted it for the screen. The UK version co-starred Edna Best, perhaps best known for featuring in Alfred Hitchcock's 1934 version of The Man Who Knew Too Much. The play was also adapted as a pair of BBC TV movies; the first (1939, 85min) starred Nova Pilbeam, who played Best's daughter in the aforesaid film. The second TV movie aired in 1947 (105min) but sadly both are believed lost. The cinema versions are available on just one DVD apiece, with the French having pas de sous-titres:
---
Other media
Here are some of my favourite resources for further insight into the MLV phenomenon. Let me know if you have any other suggestions and I'll happily include them.
---
Documentaries
There are two great German-language documentaries by film journalist and critic Rüdiger Suchsland. His previous film, Caligari: How Horror Came to the Cinema (2014, 52min), is featured on all FWMS-restored releases of The Cabinet of Dr. Caligari (1920), and is also essential viewing for fans and scholars of the era.
Some releases of both these documentaries have optional non-German audio tracks with replaced narration, though the film clips remain in original German with subtitles.
From Caligari to Hitler: German Cinema in the Age of the Masses (2014, 119min)
---
Hitler's Hollywood (2017, 105min)
The Projection Booth podcast: director Rüdiger Suchsland interview (98min)
---
Music
German cinemagoers loved their musicals as much as US audiences during the early sound era, and they were cranked out on a regular basis by UFA, who as mentioned before, was by far the biggest producer of MLVs. Some of the top film stars of the day had entire second careers releasing songs that were often associated with the musicals they starred in. Indeed, many of them actually earned more from their huge record sales than even their stellar film careers. Today there are hundreds of extremely cheap but very high quality CDs available full of fine examples of Weimar era jazz and cabaret music. A quick search on Amazon, especially the German site, will turn up a multitude of albums featuring any of UFA's top stars such as Lilian Harvey, Hans Albers, Willy Fritsch or Zarah Leander. Additionally, try searching for "Tonfilmschlager" (sound film hits) or individual film soundtrack albums. If you liked the music in The Blue Angel or The Threepenny Opera, there's plenty more where that came from!
---
Books
By Chris Wahl | De:
Das Sprechen der Filme. Über verbale Sprache im Spielfilm. Versionsfilme und andere Sprachübertragungsmethoden (2003) – essay
A newer collection of essays relating to the subject:
---
Related articles
If you liked this, you'll love:
See DVDCompare for more in-depth details of any of the discs mentioned.