Alfred Hitchcock Collectors' Guide, Part 3
American movie collections
The Master's higher profile later movies are the works cementing his towering legend
However, his artistry cannot be fully appreciated via seriously substandard transfers
Despite the seemingly endless choices, most releases are exactly the same originals
On all three latest disc formats, they're simply repackaged and reissued endlessly
There's much variation between countries: some are good but many are very bad
The same applies to many streaming copies with altered, inauthentic versions
Physical media's still the best way to be sure of experiencing true Hitch genius
Best box sets ideal way to collect big chunks of his oeuvre in one fell swoop
Note: this is part of an ongoing series of 150-odd Hitchcock articles; any dead links are to those not yet published. Subscribe to the email list to be notified when new ones appear.
Part 1: Setting the scene | Part 2: British film restorations and collections | Part 3: American movie collections
Contents
---
Introduction
You'd be forgiven for thinking things become much simpler when it comes to collecting Alfred Hitchcock's 30 American works, as opposed to those from his generally lesser known British years. After all, they were big-budget bonanzas made for major stateside studios and have always been well looked-after, right? Well, no: one of those is not true. Most of them are now owned or distributed by just three companies: Universal Studios (14), Warner Bros. (8) and Disney (5). The exceptions are Foreign Correspondent (owned by Shout! Factory via Westchester Films), Under Capricorn (CBS Television Distribution) and To Catch a Thief (Paramount).
All of Hitch's American movies have been regularly restored, remastered and repackaged over the years but believe it or not, all but six of them have releases with common issues severely compromising his artistry. These include problematic visuals, re-edited cuts, drastically altered soundtracks and even transfers in completely the wrong aspect ratio. How can you begin to appreciate Hitch's craft if his films themselves don't even look or sound the way he originally envisioned and created them? But many releases do the job just fine, providing you know which ones to pick. For in-depth details on the very best – and worst! – of each of them, see the individual guides. This especially applies to the four films Hitch made while under contract to producer David O. Selznick: Rebecca, Spellbound, Notorious and The Paradine Case. Currently owned by Disney, along with Lifeboat, the Selznicks are frequently packaged together but the situation regarding their different versions and transfers is quite complicated, so their sets are all detailed individually.
From Dial M for Murder onwards, Hitch's films were all shot for widescreen projection but on VHS and LaserDisc, every one of them were most often transferred incorrectly. To fill tube TV screens, they were either open matte (too much picture top and bottom – boom mikes!) or panned and scanned (sides cropped). As detailed below, a handful of them are still afflicted thus on DVD. Not all their soundtracks escaped unharmed either; as previously explained, six American Hitchcocks have revisionist surround-remixed audio by default though at least some (but not all) releases have the original as an option. On many, it's disappeared or rather, been suppressed completely; the most notable example being North by Northwest, whose original soundtrack has never been issued on DVD or any more recent format.
Although most titles from Warner Bros. and Universal Studios have the exact same Blu-rays and DVDs issued worldwide, apart from regional sub and dub options, there are some notable exceptions. Where the DVDs match, not only do the PAL discs look every bit as good as their NTSC counterparts but most are actually marginally better, due to PAL's greater horizontal resolution of 720 x 576 pixels versus NTSC's 720 x 480. Of course, the PAL discs do have 4% speed-up but most viewers are not not sensitive to it.
The first Universal DVDs, released between 1999 and 2001, had late video-era transers and, outside of North America, the original discs have hardly ever been remastered or improved. However, in the US and Canada, they were followed by 2005 remasters for most of them and a few years later, three of the four Universal mainstays – Rear Window, Vertigo and Psycho, excepting The Birds – were issued a third time on DVD in the US two-disc Legacy Series. All four were also released in like fashion in France and the Netherlands; the sole non-American DVD outings for any of the remasters. Apart from Vertigo, which had a rescan of the original negative, those 2005-remastered transfers ended up on Blu-ray and streaming services, and most are still in use today. Most recently, in 2020 the four main films were remastered yet again, culminating in their latest 4K UHD and streaming releases.
In addition to home-made DVD-Rs from eBay, iOffer, etc, obscure, non-western releases being bootlegs is almost a given, especially from Eastern Asia. Though far fewer than the countless rip-offs of Hitch's British films, there are numerous pressed discs from known western bootleg labels, particularly in Spain, Italy and Germany, which I've indicated in the individual entries.
---
Warner Bros. DVD box sets
Warner own eight of Hitch's American films and for the most part they're self-distributed worldwide. They also had stateside distribution of Foreign Correspondent for several decades, releasing it there on VHS, LD and DVD. Throughout DVD's peak years, Warner consistently had the best quality releases of any major studio, with excellent transfers, copious extras and many acclaimed box sets of their classic titles. They issued their Hitchcocks in many complete and near-complete collections which, largely depending on their release date, often contain one or both discs of Strangers on a Train's remastered reissue (2004), as opposed to its single flipper original (1997). Likewise with North by Northwest: later sets have disc one of its two-disc remastered reissue (2009), as opposed to the prior single disc edition (2000). Across the board, Warner only made one technical boo-boo but it's a biggie: the US and Mexican DVDs of Dial M for Murder, like several Universals, were transferred in the wrong aspect ratio and have never been corrected. These are the most comprehensive collections, all with five films or more.
---
Warner Bros. Blu-ray box sets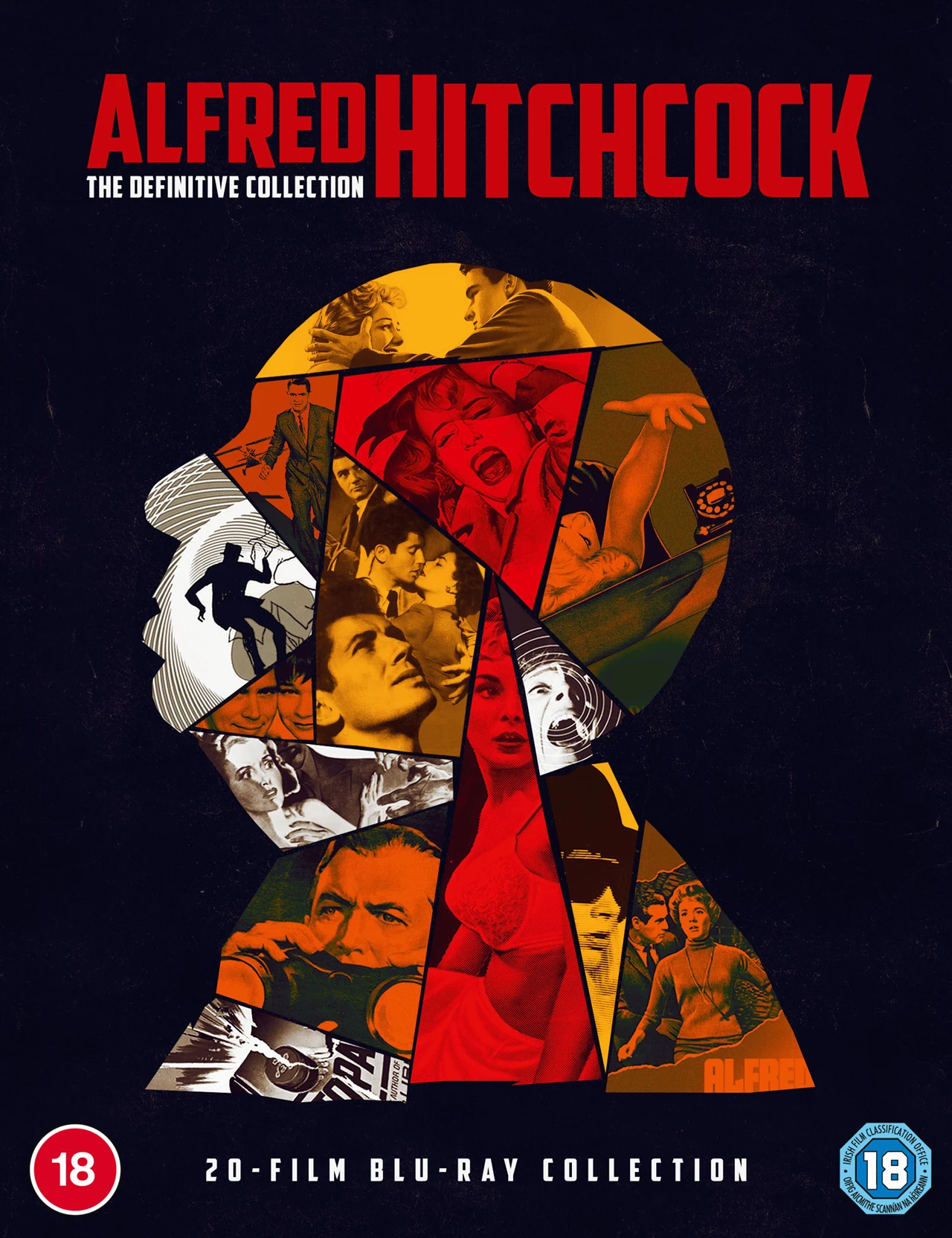 Warner are meticulous about the quality of their BD transfers and many of them, including their Hitchcocks, are among the best looking and sounding classic films available. An additional bonus is that unlike their classic DVDs, they always issue the exact same region free disc worldwide with a host of sub/dub options. Unfortunately, due to extensive restructuring of their deep catalogue home video division, Warner haven't carried the DVD policy of complete Hitch collections through to BD and mostly issue them individually. But just about everywhere outside of the Americas, Strangers on a Train, Dial M for Murder and North by Northwest are regularly packaged together; those sets can be found in their individual listings. There are also just two sets of four films apiece from the US and Spain, with the latter being a limited edition that's now as rare as hen's teeth.
Oct 21 update: The best box set yet, the UK HMV-exclusive, limited edition Definitive Collection includes all 14 Universal and six Warner BDs available at the time of release, plus the uncut Psycho. All discs are region free and playable worldwide.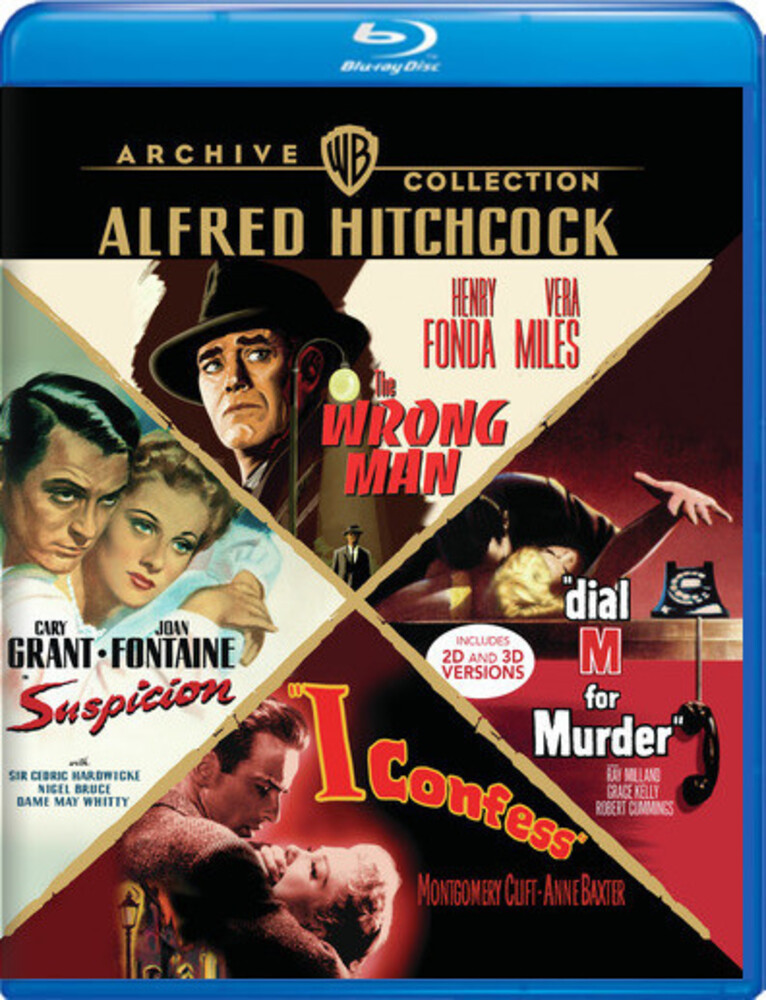 ---
Universal DVD box sets
Universal Studios released the first DVDs of their 14 Hitchcock titles between 1998 and 2001. They were generally a vast improvement over their previous outings on VHS, Betamax and LaserDisc, especially as many were now correctly in widescreen for the first time. However, there are some issues among them: The North American Vertigo and Psycho discs are non-anamorphic, so have reduced resolution, and only the American DVDs are all in widescreen where appropriate. Everywhere else, The Birds, Marnie, Torn Curtain and Topaz all have incorrect, 1.33:1 tube TV screen-filling transfers, as also afflicts Warner's American Dial M for Murder DVD. Sadly, despite countless reissues and repackages, outside of the US and Canada there is only a literal handful of upgraded issues of Universal's early discs. Shame on the studio for still flogging them in an age where widescreen 2K and 4K HD is the norm. If collectibles are your thing, several countries outside of North America have released very attractive, limited edition VHS and DVD sets of Hitch's later films. These largely consist of the Universals and most often come with extensive illustrated booklets or in Digibook packaging.
These are the most comprehensive general sets of the Universals, though many non-American countries have also split the 14 into two 7-DVD sets, Hitchcock Vol.1 and Vol.2., with Benelux also issuing a third volume, detailed below.
---
Universal France DVD box sets
In France. Benelux and Sweden, Universal issued several humongous box sets even broader in scope than those above. They're particularly notable for including many of his British films alongside the later American ones, whereas other Universal sets above just have the latter. If you're building a complete Hitchcock DVD collection from scratch, they're easily the best place to start: you can pick up around half his entire output in one fell swoop. As with most Hitch discs issued in Europe, all are English-friendly and have copious extras. They're also region 2 PAL and feature a host of sub and dub options. In the French sets, Hitch's British years are represented by three 2on1 DVDs, also available separately:
The Benelux and Swedish sets add Foreign Correspondent/To Catch a Thief and Correspondent respectively, and a different selection of eight British films. Those are 8 of the 12 Studiocanals on four 2on1 DVDs: Champagne/The Ring, The Manxman/The Farmer's Wife, Blackmail/Murder and Skin Game/Rich and Strange. Although not available separately, in Benelux the four discs were initially issued with Correspondent in the AH Collection 3 (2007). Volumes 1 and 2 consist of the split 14 Universals, as explained above.
Note: when I first compiled and published this info elsewhere, these sets were all reasonably cheap and widely available but the latter is no longer the case. However, it's still well worth keeping an eye on French eBay and the like.
---
Universal remastered DVD box sets
In 2005, the US Masterpiece Collection débuted remastered transfers for Saboteur, Rear Window, The Trouble with Harry, The Man Who Knew Too Much, Vertigo, Psycho, The Birds, Marnie, Torn Curtain, Topaz, Frenzy and Family Plot. Every film in fact, except Shadow of a Doubt and Rope, which already looked fine. Later issued individually, all have essentially been the de facto versions in the US and Canada ever since. These three are by far the most comprehensive sets; they all have the 2-disc Psycho and the latest two have a couple of extra DVDs of Alfred Hitchcock Presents episodes.
---
Universal Blu-ray box sets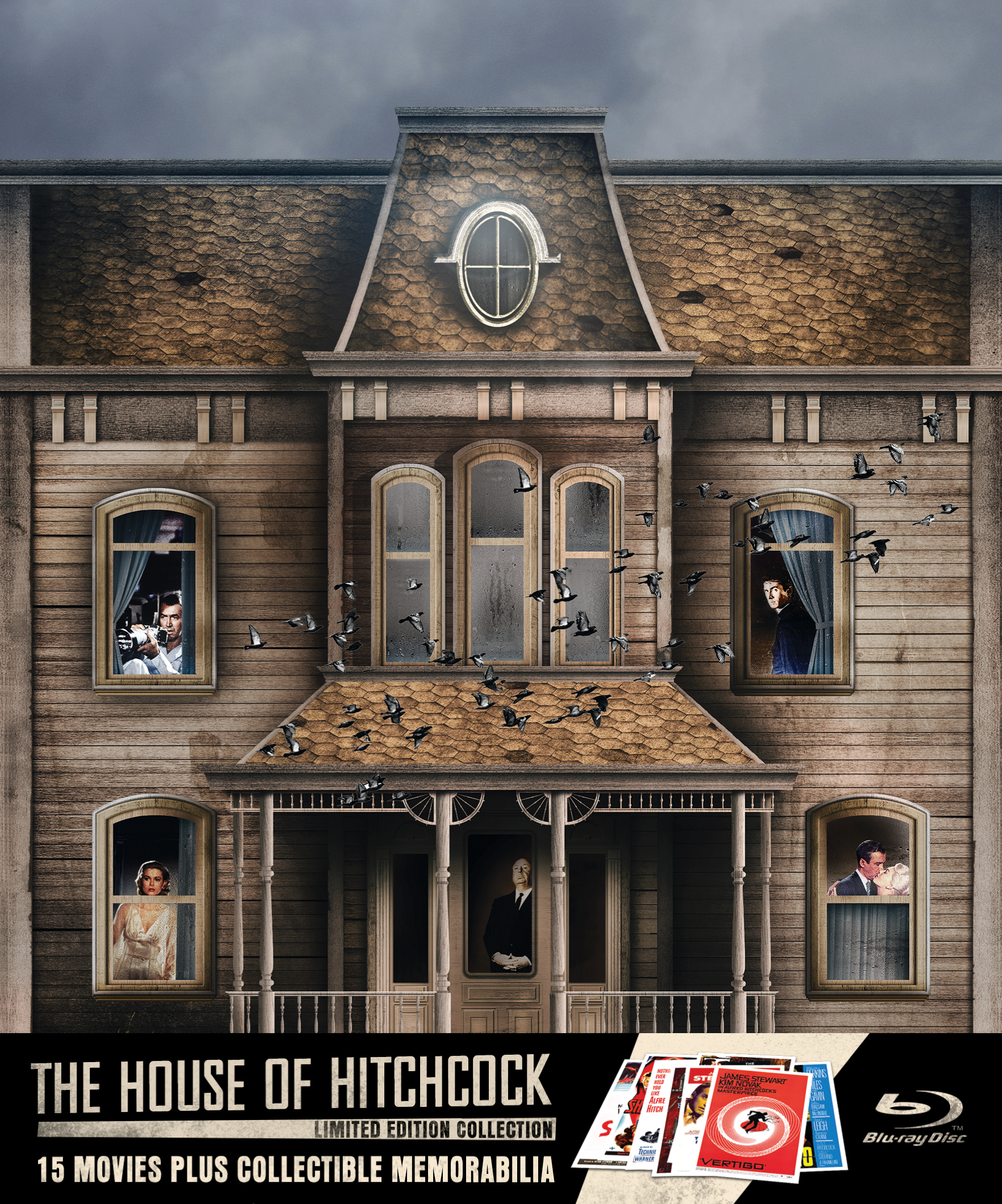 In terms of their transfers, extras, etc, Universal's 14 Hitch BDs are exactly the same everywhere, except for Topaz, which has two different cuts split between English and non-English-speaking countries. They're all region free and in English  by default with some regional variations in sub/dub options. The other main exception is Vertigo: the US disc is the only one to have its original mono audio in addition to a 5.1 remix. The only other variation worth noting is that Psycho's original mono is lossy DTS on the US/Canadian discs and lossless DTS-HD Master Audio on all others. But the difference is negligible and as these all contain the slightly cut version that's mistakenly been in circulation ever since the film's first release, the uncut 60th anniversary editions are really the ones to get anyway. With those caveats, although there is still room for improvement in certain of the transfers, the BDs are uniformly an A/V leap over the DVDs and finally iron out the aspect ratio anomalies plaguing the aforementioned titles.
The uncut Psycho BD (2020) is the only one of Universal's 14 Hitchcocks to be remastered and re-released; other than that, the original discs have all been endlessly repackaged and reissued everywhere. Occasionally, as with some DVD sets above, the 14 are bolstered by inclusion of some non-Universal titles; most commonly, pared-down reissues of To Catch a Thief and North by Northwest, along with two Alfred Hitchcock Presents DVDs. These box sets, along with a few similar examples in other countries, are the most comprehensive to date. Note that as with the DVD sets, many non-US countries have also split the 14 into two 7-BD sets, Hitchcock Vol.1 and Vol.2.
Oct 21 update: As mentioned above, the best box set to date is the UK HMV-exclusive, limited edition Definitive Collection. It includes all 14 Universal and six Warner BDs available at the time of release, plus the uncut Psycho. All discs are region free and playable worldwide.
Non-US BD designs by Oink Creative, London; slideshow
Collection trailers: 15-BD Masterpiece | 14-BD Masterpiece Ltd Ed | 16-BD Ultimate Filmmaker, Animated unboxing | House of Hitchcock
---
Universal 4K UHD-BD box sets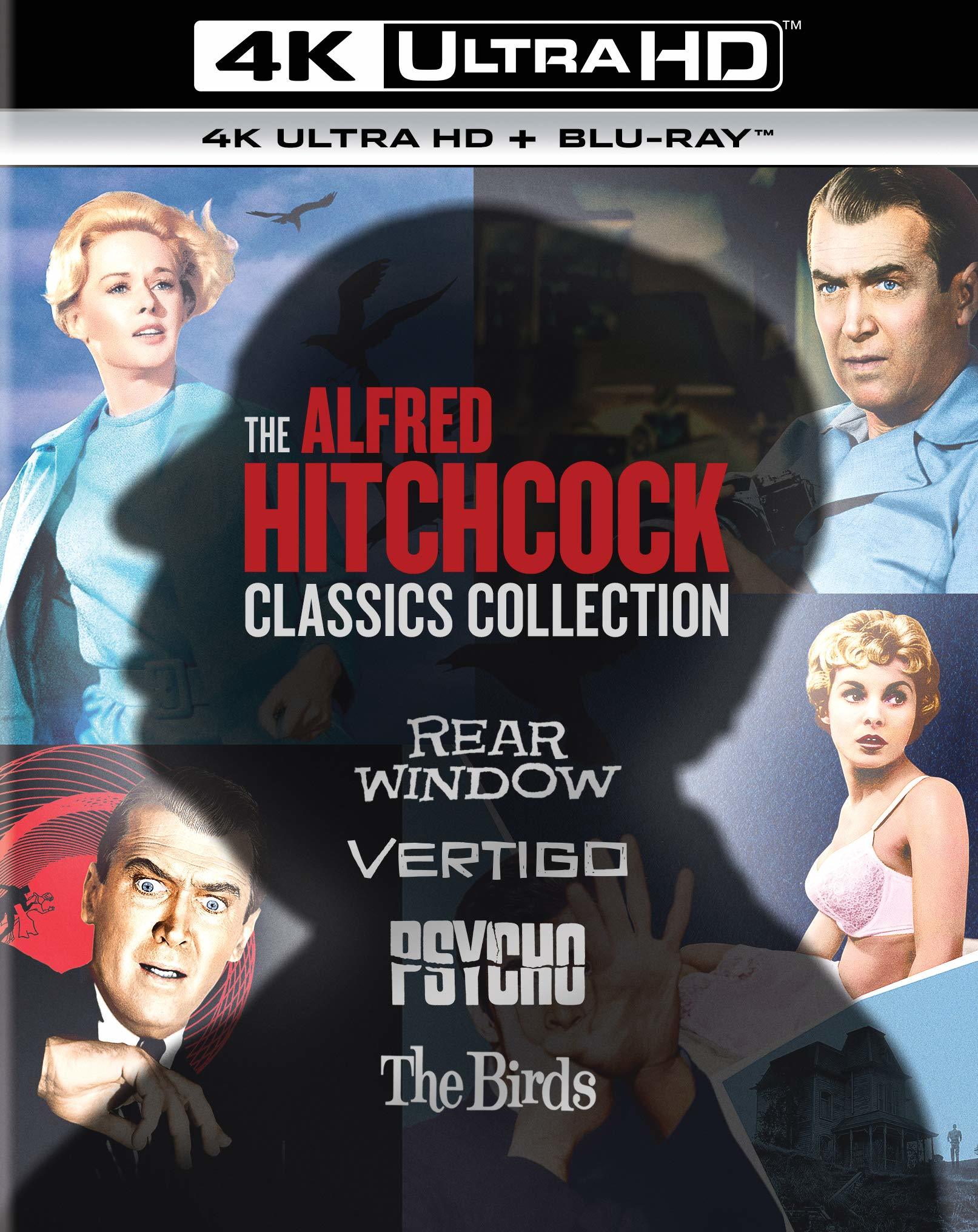 Finally, here they are: in 2020, the four mainstays of Universal's Hitch features arrived freshly remastered in 4K ultra high definition, looking and sounding the best they ever have on home video – but there are still some issues to be found. Well, it is inept Universal, so there are always going to be some cock-ups and caveats. Primarily, initial copies of the set mistakenly replaced Psycho's original mono audio with a folded-down version of its much derided remix; more here. Secondly, concerning the iteration of the set sold in Germany, Italy, Portugal and Spain, Vertigo has playback issues on some players; again, more here. Lastly, note that in the dual format sets only the Psycho BD has been remastered; the other three BDs are the exact same previously released discs. Thankfully, at least this time all releases of Vertigo's 4K discs include the original mono option but obviously only the US and Canadian dual format sets have BDs with mono. With the latest disc format, the tyranny of region coding has finally ended: all UHD-BDs are always region free, which is handy if you already own one of the BD collections above and would rather buy one of the four-disc sets, minus the surplus BDs.
Part 1: Setting the scene | Part 2: British film restorations and collections | Part 3: American movie collections
---
Related articles
For more detailed specifications of official releases mentioned, check out the ever-useful DVDCompare. This article is regularly updated, so please leave a comment if you have any questions or suggestions.
I started Brenton Film because I love film – quelle surprise! The silent era, 1930s and 1940s especially get my literary juices flowing, so you'll see a lot about those. For more, see the About page.